On January 4, 2009, it was very cold, but crystal clear and sunny. I could not pass up this opportunity, and decided to go snowwalking with some friends on top of Monte Penna, one of Ligurian Apennines most famous and prominent peaks (el. 1735 m); the conditions were really favorable also for trying to put together a panoramic view of the gorgeous landscape we enjoyed from up there.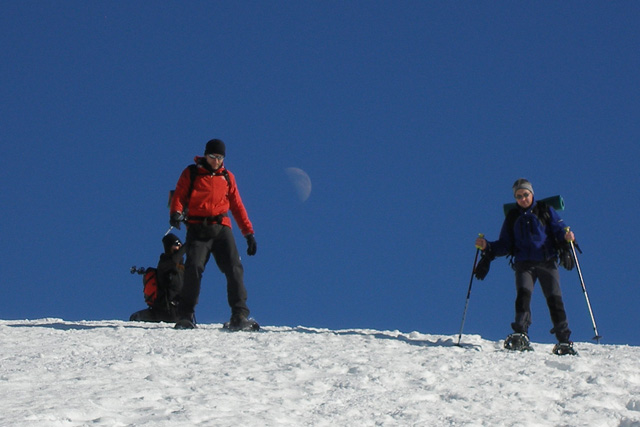 This trip turned out to be one of the most beautiful snow walks I've ever done in my life.
As many of you may know, the Apennine mountain range starts in Liguria, just inland of Savona (Colle di Cadibona, and stretches all along the coast of Ligurian Sea, around La Spezia, where it suddenly bends inland and increases in width, to make what could be called the backbone of the Italian peninsula.
Due to the mountains being so close to the coastline, the highest peaks of Ligurian Apennines often treat the visitors eyes with breath-taking and unobstructed views which can span almost 300 km in diameter, ranging from the Ligurian Sea, Corse, located about 150 km to the South, to the Alps which lie 150 km to the North, across the Po Plain (Pianura Padana).
For my crack at assembling a panoramic picture, I took a series of exposures (no tripod whatsoever, just standing still and pivoting on my legs while holding the camera firmly with my hands), and later stitched them together with Canons PhotoStitch. Below is the outcome which Ive made available as an interactive panoramic view with PTViewer panorama applet.
Warning: if you cant see the panoramas, you may have a Java memory issue which can be easily fixed. Please click here for details on how to solve it.
Click on the thumbnail below for a higher resolution zoomable version of the panorama:

But theres more to this trip than just the panoramic view: