Lista dettagliata a giugno 2020
Questa pagina contiene la lista completa della mia attrezzatura. Cercherò di mantenerla aggiornata mano a mano che essa cambia. Tempo ed impegni personali permettendo, cercherò di fornire anche link alle pagine web dei singoli prodotti o test, scritte sia dal sottoscritto sia da altri (in quest'ultimo caso, ospitate su atlri siti).
Riflettore SCT Celestron C11 con cercatore 8×50
Riflettore SCT Celestron C8 EdgeHD SCT con cercatore 6×30
Rifrattore Tecnosky (TS) 130 f/7
Rifrattore Pentax 75 SDHF
Montatura 10 Micron GM2000 HPS
Montatura Gemini G42 Observatory+
Montatura Skywatcher EQ6R
Montatura Skywatcher EQ5
Treppiede 10 Micron Centaurus
Treppiede Berlebach PLANET
Skywatcher Star Adventurer tracker
Skywatcher Star Adventurer Mini tracker
Astromeccanica TL-110 tripod with custom-made adapters for GM-8 and EQ-6 mounts
Manfrotto 055C photographic tripod with head
Slik photographic tripod
Cullmann compact tripod
Moravian G2-8300 CCD camera
SBIG ST10-XME CCD camera
ASI 071 MC Pro OSC CMOS camera
Reflex Canon EOS 6D modificata Baader
Reflex Canon EOS 90D
Reflex Canon EOS 760D
Praktica MTL-3 SLR
Olympus OM-1 SLR with 1-8 focusing screen
Nikon F-3 SLR with clear focusing screen and DW-4 magnifier
Canon EOS 350D (aka Digital Rebel XT) DSLR camera
Nikon LS-30 slide and negative scanner
QHY290M
QHY174M
ASI 120MM
QHY 5L II
ASI 178MC
ASI 224 MC
iNova PLA-Mx
Microfocuser Analogic PC per SCT
FeatherTouch focheggiatore manuale per C11
JMI Motofocus per Celestron C11
Ruota portafiltri manuale Atik
Ruota portafiltri a 5 posizioni 1.25" ZWO
Filtro Baader IR-cut
Filtro Schott RG695 IR-pass
Set di tre filtri colorati (R, G, B) from Astromeccanica
Schott BG-12 violet filter (for Venus imaging)
Baader U-filter (for Venus imaging)
Astronomik LRGB CCD filter set (31.8 mm)
Astronomik H-alpha 13 nm bandpass filter (31.8 mm)
Baader Filters for CCD narrowband imaging (31.8 mm): H-alpha 6 nm bandbass, OIII, SII
Solar filters: MTO 1000 (Mylar), SW ED80
Tiffen 58 mm 8-point star filter
Tiffen 58 mm fog filter
COMA 1.25-inch filter slider
Per Praktica MTL3 (passo a vite): 24 mm f/3.5 (Pentax), 50 mm f/1.8 (Pentacon), 135 mm f/2.8 (Petri), 200 mm f/4 (Jupiter), 300 mm f/4
Per Nikon: 50 mm f/1.8 AF (Nikon), 28-210 zoom (Tokina)
Lente catadiottrica MTO 1000 mm f/10
Tele Pentax 500 mm f/4.5 telephoto lens (con baionetta per lenti Nikon)
Kit motori Astromeccanica per Losmandy
Motorizzazione Losmandy #492
Astromeccanica DA-1
Astro Electronic FS-2
Meade 6.7 ORmm
Lumicon Plossl 25 mm
Unitron 4 mm
Meade serie 4000 31.8 mm
Baader Hyperion 21 mm
TeleVue Plossl 20mm
Celestron Ultima LX 20mm (da 2 pollici)
COMA 14 mm e 40 mm per Nikon Coolpix 995
Oculare a reticolo illuminato Meade 12 mm
Guida fuori asse Lumicon Cassegrain Easy Guider con tubi di prolunga
Riduttore/spianatore Meade f/6.3 per SCT
TeleVue Powermate 2.5x
Televue 3X Barlow
Diagonale Celestron da 31.8 mm (da "battaglia")
Adattatore autocostruito da webcam Philips a oculare 31.8 mm
Adattatore da Philips webcam a oculare 31.8 mm della ditta COMA con filettatura per filtri
Adattatore della ditta COMA ad anello T
Anelli T per: M42 (Praktica), Olympus, Nikon
Meade Variable tele-extender
Adattatore M42 femmina / 31.8 femmina (per usare oculari con l'MTO e altri obiettivi M42)
Adattatore baionetta Nikon – 31.8 femmina per usare oculari con obiettivi Nikon
Numerose barre a coda di rondixe Vixen e Losmandy (GM-8 e G11), sia autocostruite che acquistate
Adattatore 2 pollici ->T2 di Scopestuff. Si svita in due parti che offrono una filettatura M/F per SCT SCT (2 pollici, 24TPI). Utile per attaccare accessori per SCT, come ad esempio un riduttore di focale f/6.3.
Doppia barra autocostruita per Losmandy GM-8
Anelli per telescopio guida autocostruiti di 90 mm di diametro interno
Inverter 12V DC/220V AC 300 W
Alimentatore 12Vin / 12-24 Vout per utilizzo sul campo del PC
Frame grabber Trust USB2 A/V editor (utile per acquisire da sorgenti video analogiche)
Numerosi anelli adattatori "step-up" and "step-down" per filtri di obiettivi fotografici
Laser verde da 15-mW, usato solo per scopi divulgativi (ad es. con la mia associazione astrofili)
SCT Meade da 8 pollici LX50 (il mio primo telescopio serio: otticamente buono, meccanicamente modesto)
Tubo ottico Meade da 8 pollici (versione bianca marcata LXD: un vero catorcio!)
Tubo ottico Celestron Nexstar 8 (ottiche di ottima qualità)
Riflettore Skymaster 114/900. Non ce l'ho più, ma ricordo le belle visioni che offriva di molti pianeti e oggetti del profondo cielo. Ai tempi un ottimo "primo strumento" che mi ha aiutato molto ad approfondire la mia conoscenza dell'universo.
Filtro deep sky Lumicon (diametro 48 mm)
Oculare Meade OR 10
Montatura Ianus M-Foto
Oculare Celestron 40-mm Plossl
Rifrattore altazimutale Skymaster 60/700 mm (il mio primissimo telescopio!)
Montatura Synta EQ6
CCD SBIG ST4: un tempo considerato una delle migliori autoguide sul mercato, non sono mai stato in grado di farlo funzionare bene. Alla fine sostituito con un sistema Camera Mintron analogica – video grabber USB2.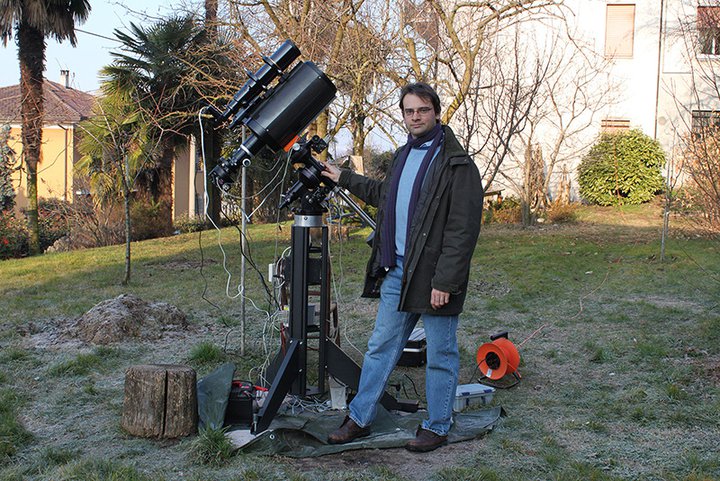 Il sottoscritto in giardino (Febbraio 2011) con parte della mia attrezzatura: RC da 20 cm della GSO + CCD ST-10XME, rifrattore di guida Night Technology NT80 + camera SX Lodestar, montatura Losmandy G11 con motorizzazione FS2, colonna RP Astro.